This is a featured post, kindly scroll down for all the latest news.
Zlatan Ibrahimovic (28) has been the subject of a lot of heated FC Barcelona fan discussions lately. After being transferred to FC Barcelona from FC Internazionale Milano this season in a swap deal that included Samuel Eto'o (28) and a sum of money as the transfer fee, Ibrahimovic quickly garnered media and fans' attention.
In the beginning, it was all high for Ibrahimovic as he started with an assist to Messi and being recorded in FC Barcelona's history as the only player to be able to score in four consecutive opening league games, beating Hristo Stoichkov, the previous record holder. But lately, his form has been dipping and together with it, a slight declining of Barca's performance. So far, Barca has failed in one competition, the Spanish Cup. Can something be concluded from this situation? Is it really Ibra's fault? Here is a point of view of some things that have been happening lately.
The recent drop in Barca's form has caused alarm in a lot of quarters. While it is very easy to quickly point fingers to a culprit, namely and particularly Ibrahimovic, there are a lot of explanations as to why the situation is not as easy and simple as we think, as football is not just twenty-two players, two managers, and spectators. It also includes the bigger picture – the cultural and political situations, especially in Barcelona, poised for a change in directorship and having a distinct culture from the rest of Spain. In the following paragraphs, I will try to give a number of reasons why it may be premature to blame Ibrahimovic and stamp him as a failure and a failed transfer. Of course I won't go too far as to discuss the cultural repercussions, but here are my reasons.
1. Ibra is purchased by Pep's decision, backed by the directors, and is seen as a key transfer this season
Pep really wanted this player and looking at the total transfer value that is reportedly nearing the €69 million mark, he has the support of the rest of the team and the board of directors. So if we really regard Ibra (or Dima) as the purchase that failed, we might just as well say that Pep failed. Now the reason Pep wouldn't extend his contract as soon as possible is that he had known for sure the pressure is really heavy – he can't be better than last season because last season was a perfect performance. But fans everywhere state they will support Pep 100%.  So, Pep agreed to a deal that will make him stay until Summer 2011. Now, Barca are in 2nd position in La Liga even though we are short only 26 points to the winning point total of last season with 13 matches left to be played. But things could have gone more awry. Remember the 2006/7 season? Where is the 100% support for Pep that we have promised?
2. Football is a game between two opposing teams
So if we want to critique FC Barcelona, or compare them to other teams, we should also take note of the opponents. Now, is there currently any other team that has to face 8 opposing players constantly positioned in their penalty box every week? Is there any team that has had a perfect season so that every opposing team this season face them with extra enthusiasm and motivation? There hasn't been any perfect team and probably never will be. History says that there has never been a team that can win the Champions league sequentially since the modern era and this is not without reason. So, Ibra may have been weak lately, but it is totally void to compare him to other strikers right now, as no other team has to deal with bus parking strategies and physical games week in, week out. To bring the case further, is it actually his own fault, or is it simply a result of a specific player's instruction?
3. Tiki-taka short triangular passes are at maximum efficiency when it's unpredictable
Now, the problem is that the passes are not that unpredictable anymore. With Barca constantly having more than 60% possession of the ball, nowadays it is more of a norm than an achievement. Their playmaking videos can even be learned and seen on sites like YouTube. Do we fool ourselves by thinking the opponent's coach and players would do nothing when they have experienced themselves such convincing and humiliating defeats last season? They must be really motivated to counter that style of football, to take the game back into their own hands. And unconsciously, collectively, they seem to have found the most powerful way to prevent it: Rubin Kazan tactics. That can be summed up as "bus parking," fast and powerful counter attack, and a physical game. And indeed, in every strategy there must be gaps and weaknesses, for no football tactic is perfect.
Look for Xavi and Iniesta now and how the defenders and the midfielders are more clever in jostling them, rarely chasing the ball, only limiting Xavi's and Iniesta's options by collectively hounding them. And also lately, Ibra seems to be instructed by Pep to be tactically closer to the goal, so he rarely has much space. Meanwhile, previous strikers like Eto'o were often instructed to spread to the flanks to create goal scoring opportunities. Why is that so?
4. Pep hasn't found a comprehensive strategy to solve this season's situations yet

I think there are two strategies that can be used as an approach in winning a football match:
a) Using the same strategy, formation, and tactics to attain the much coveted perfection level and usually goals depend on the individual improvisation and processes similar to one another. The victory is usually obtained from individual telepathic playing style because each player have known each other's playing style to such an extent, or a collective skill advantage.
b) Using formations and strategies that continue to vary depending on the opposition. Victory is usually obtained from a tactical advantage or a moment of brilliance from the team star.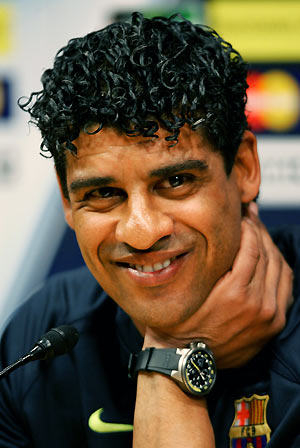 From the above 2 approaches, Alex Ferguson, Capello, and Lippi clearly adheres to the (b) approach. While, Rijkaard and Ancelotti is closer to the (a) approach. No approach is strictly better than the other. And generally if a coach is closer to the (a) approach, usually they are very close to the players and the players are more prominent than the coach, while coaches that adheres to the approach (b), usually are stricter as any star can be thrown out and relegated to the sidelines should he fail to obey the plan. The relationship between the coach and players is usually very professional.
What about our current coach, Pep Guardiola? Last season, I think Pep embraced the (a) approach for regular games, but using (b) for big matches (i.e. the final against Manchester United, Messi is posed as a 'No.9′ striker, and Barca finally won the game with Messi scoring an unmarked solid header). This season, Pep seemed to mostly use the (b) approach in fear that his team would have stagnated like in the 2006/2007 season.
Therefore, this season Pep is looking for a striker that, according to him can give Barca new tactical options. He proceeded with some tactical experiments immediately after the season began. Of course, some experimentation was successful (Club World Cup 2009, which Rijkaard failed to win in 2006), while some are less than satisfactory (the last couple of games, and especially the draw against Almeria yesterday). So is it purely Ibra's mistake? It doesn't seem so.
5. Putting Ibra alone inside the penalty box with 4 or more defenders marking him isn't exactly the best way to win matches
These past few games, this is exactly what has happened in the beginning 60 minutes of the match. Especially with Pedro on the right and Iniesta on the left wing, the wingers do not go into the penalty box WITHOUT the ball but had to go into the box WITH the ball, making Barca's game pattern easily read by the opposition.
Combine that with Messi playing as a playmaker in the center attacking midfielder position, and it will be clear why Xavi, Ibra, and the rest of team seemed to play way below their full potential. Xavi's game was not developed because he is too far away from Iniesta and often assigned to drop deep, feed the ball to the flanks and only as a connector between the backline and midfield. Xavi will unlock his full capabilities when he can also make plays in the final third of the pitch (as shown in the match against Malaga after Barcelona returns to their normal strategy).
In Ibra's case it became particularly difficult for him to improve his performance when there are no other players that can disrupt the defenders' concentration and who can become his partner in a one-two pass inside the penalty box. In the game against Almeria yesterday, there was one moment where Ibra was able to cut inside from the left wing and it is puzzling why he didn't attempt it more often. It could be that Pep doesn't want too much player position changes in his experimental strategies. This all shows that a striker in this modern era, however good he is, when alone in the penalty box and isolated from the rest of his team, will rarely make a contribution.
6. Ibra is a performer at heart
So relegating him to a post man striker who just waits for the ball and provides physical presence in the penalty box may not be in the team's best interest, although the reason Pep is trying him as that kind of player on the pitch might just be to see how predatory he is in front of the goal. It is known that he converted to his current striker position from the influence of Fabio Capello when Ibra first arrived in Juventus. Capello wanted to mold him as a Van Basten-type striker. So he may have been a more attacking midfield type, instead he has not participated in the conversion. So, maybe rather than just Ibra adapting to Pep and Barcelona's play style, it may also be the case that Pep is trying a different style of play that can maximize the potential of the entire team, including Ibra. Unfortunately, that balance has not been found.
Based on the above reasons, I think a fresh perspective in dealing with the current performance of FC Barcelona and the player that is used by many fans as their scapegoat, Zlatan Ibrahimovic, can be offered. And as always, Visca Barcelona, and please give us your comments. Thank you for reading.
Faisal Rakun